Product Photo Editing
Product  photo editing is a big service in clipping path company-That is a big question for e-commerce business owners and online sellers: editing product photos and using them online. In every sector of online e-commerce business, products photoplay a vital role in attracting customers.
According to research, 90% of consumers priority to product image purchasing online. So, the question is here: if you didn't post your image without being attractive or good-looking, then it might attract no consumer to your product, and they never buy it.
Guess you are a customer, and you want to buy a product online. Now, which things do you look at first after inserting a website? I mean which things you notice at first. Okay, if I'm a consumer, I always try to buy a product that looks good and has good quality. Because without good product and photo anyone never impress and buy that.
What is product photo editing?
Product photo editing is one of the significant parts of photo editing agencies. Some online platform didn't post their photo without proper optimization and editing. Are you eagerly waiting to know how to edit product photos using adobe photoshop, then this article is for you? In this article, I'm going to show you how to edit product photos in photoshop professionally. Through this article, you can learn about all things for product photography editing.
Let's make a dive forward
Image Adjustment
First of all, you need to adjust the image and make it to straight view. There are many options in photoshop for straight the photo. If your image is not straight in position, the photo cropping tools help you straight out your photo. You can use this before removing background photos. According to your required size, photoshop can give you the perfect size.
Remind that before cropping or resizing your image in case your photo resolution is not decreased. That is the precaution for an image resizing service.
Color Correction Service
After making the image with proper resizing, you have made the image recolor or color grading. In some photo editing, you may find an automatic color correction service or option. But most of the time, this is not perfect with photos. Auto color does not provide an accurate result. However, the photo color correction service removes your natural color and makes it a different color.
Sometimes photography for product photos didn't come with proper lighting and color balance. And we see different colors than originals after taking the photoshoot. This time color correction process will fix the issue and make the image more attractive.
Photo Background Removal, Product Photo Background Removal
You do not need to keep any distracting background with product photos. If you feel that the background is unsuitable for your image, you can use a background removal service for your product image. After using this service, you can easily change the background and add a solid color background that fits with your product photos. Also, we have to remove unwanted objects from a photo to focus on the viewer's remains on the e-commerce product.
At this stage, you have got an idea about the basics of product photography editing. Now I discuss with you 9 crucial photoshop tools that you can easily use and edit product photos. Hopefully, these tutorials also teach you how to edit product photos using adobe photoshop tools.
9 Importance Tools That You Can Use to Edit Your Product Photos
Adobe Photoshop is the best photo editing software. Photoshop is in one solution for any post-production service. With the help of adobe photoshop, you can edit anything of a photo like a crop and resizing, remove background change, color correction, clipping path, cut out, shadow creation, and photo retouching service.
There are two versions of adobe photoshop one is paid, and another one is a free version. You can do anything using a free version of adobe. But if you are looking for a free photo editor, then photoshop is not the right choice; instead, it maintains by someone. Alongside, you need to have proper skill and knowledge to handle the best use of photoshop.
Photo express is a mobile version of photoshop. That is not a powerful computer software version. Still, now this is one of the best applications for the mobile version to edit product photos on mobile. You can use this mobile software to optimize your product photos and change the image size, photo background removes, photo recolor, and retouching service.
You can get a free version of this software from the google play store. Using this software may be easier than the computer version.
Pixlr is another superb tool that is also used for product photo editing. This photo editing software has so many easy and convenient options that one can easily maintain for a photo editing service. Using this tool, you can easily crop a picture and change the hue & saturation of your image. These tools are so easy and flexible for changing color and brightness.
Suppose you have taken a picture in a low light condition or dark place; this time, the Pixlr photo editor increases your photo brightness & contrast and balances the image like a natural photo.
Do you want to optimize your product photo in a quick time? Be funky is the best software for you. That is an online photo editing tool. So, you need not install any of this on your device. It would help if you visited Befunky; you will get started to edit your product photos.
On the top right side of this software, you will find the "Get started" button. Just click on this, and you will see 3 categories of photo editing options. With the assistance of Befunky, you will be able to create a collage of your product photos.
If you are looking for free photo editing tools to optimize your product photo, this tool is best for you. The support and service of these tools are so beneficial all time. GIMP photo editing software is available in the free version. Thought you would find photoshop free version also. Still, you can use this tool for photo editing. It helps to solve the job efficiently and crop & resizing correctly.
Also, gimp can assist you in improving photo resolution and brightness, a contrast of a photo. This application does not cover so much storage. So undoubtedly you can install this program.
Clipping magic is also an online-based photo editing tool. You can use this to remove the background remove from the image. That is an automatic photo background remover tool. You need not install any software on your device to remove the background. Just visit the website clippingmagic.com website and upload your image for this service.
Their AI automatically removes the background from your product images. As the tool works automatically, you might not get decent results for complex and super complex images. Besides, this is a paid tool, so you have to pay for every editing.
Are you looking for online photo editing tools to help you edit your product photo, create and make collages? Then, Fotor is the best solution for you. That is one of the best photo editing websites for beginners. Handle this tool; you do not need much experience in the photo editing section. Instead, these tools continue you with simplicity, and you can change the photo background easily. You can upload an image on this website and start optimizing your product images.
These photo editor tools have a convenient and straightforward interface. Want to know about these photo editing tools? Well, you can remove background from an image using this tool; besides clipping path, photo retouching, color correction service, image optimization, and so many photo editing service, you can do using this tool.
Looking for a professional and powerful photo editing software like photoshop? Affinity pro can be an alternative to adobe photoshop. With the help of these tools, you can professionally edit your product photo. This advanced photo editing software provides you with a lot of options for photo editing.
You can use Affinity Pro for e-commerce photo editing services; besides those, you can use this for photo retouching, Product photo editing, ghost mannequin, background removal, color correction, and so on. Before image editing, you have to have proper knowledge about photo editing services.
Clipping path assist has a professional team for clipping path service. If you want to handle a big project, then clipping path assist is the most choice. Because we have a lot of experience in the photoshop editing sector. They provide clipping path service, background removal service, car photo editing, real estate photo editing, food photography editing, etc.
CPA has a money-back guarantee if the customer is not happy with our work. That's a great deal. Sometimes you have a large batch for post-production, and you need to photoshop them. Managing a big project with a single hand is so much complicated for a person. Alongside, you may find it challenging to keep the images to the best quality. Clipping path assists handle projects easily. They have more than 150+ professional photo editing experienced teams who are working with three different shifts.
Clipping path assist can deliver 4000 images a day maintain image quality. Do you want to know about their work? Send them a Free Trial, and after that, you can discuss with them about price. The test image is free of cost.
That's all about the 9 best photo editing Websites/ software we discuss. In this tutorial, we try to introduce all photo editing software that is so much important for photographers and e-commerce business owners.
Now I will discuss with you 5 essential steps for product photography editing. Hope this will give you a better idea of how to edit product photos. Let's start
5 Important steps for Product photography editing. Need to learn this.
Step-1
Raw correction
At first, we need a raw file because the raw file keeps all details and makes the image proper balance. For this, I always recommend you use the raw file after capturing the product photo. For correcting, Open the image with photoshop and balance the color and tone; then, apply your change and save this in JPEG format. JPEG is a standard format for photoshop editing. What to do after that? Let's read to the 2nd step.
Step-2
Spot Retouching
After covert the image, you have to retouch your product image. When you open the image with photoshop, then you will see several options for spot retouching. For product images, you can use patch tools for retouching. That is an easy and flexible tool to remove unwanted dust and spots from your product photo.
If you see that patch tools are not working appropriately, you can use clone stamp tools. These tools assist you in removing portions, acne, or any big dust & scratches, or damaged photo.
After completing the manual retouch, you can proceed to finalize the photo with the burn tool. That is one of the best photoshop tools if you want to darken an area.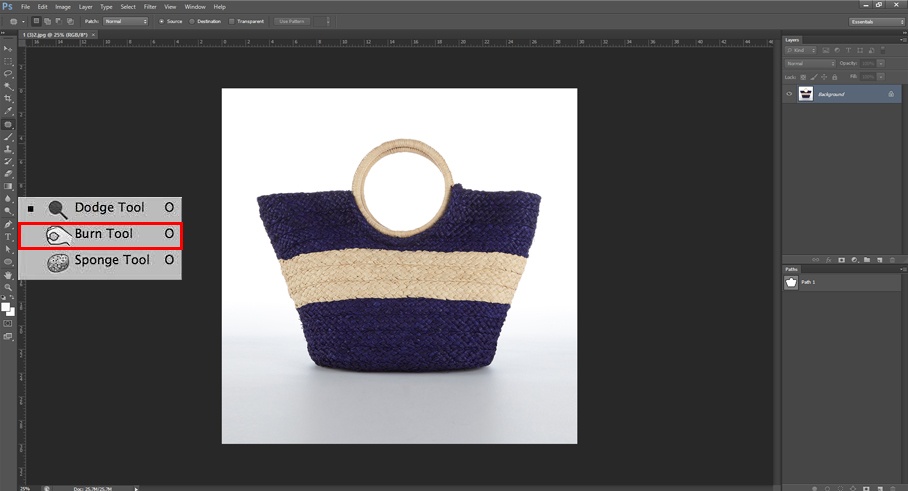 Step-3
Color adjustment
This is the third step of an image. The color adjustments technique adjust color correctly, and no one can tell that the image is already edited. Using the curve option in photoshop, you can efficiently perform. This option gives you great control over white, grey, and black. To enhance the curves, press CTRL and M or move the line like a photo.
From the red mark area, you can adjust the white color. Hold on to the middle of the curves; you can change the grey color. The bottom side gives you black color; on the other hand upper side makes the image shinny. You can use the hue and saturation feature to make changes to the color.
After completing the above process, you can use the brightness and contrast option to edit your product photos in photoshop. You will get a better result after doing that.
The color adjustment tools cover the whole area, correct the adjustment, and move you to the next step.
Step-4
Making Alignment Straight
Now you have to ready your image for an online shop. But there is rules or guideline which you should obey. There is a format in every website before posting an image on any online platform. If you want to post the image on Amazon, eBay then you should ready your image to match the requirement. If you do not obey their rules and regulation, then your image may flop or delete automatically. You should set the filename according to the guideline and use proper image resizing as given instruction.
 Step-5
Shadow Making & Saving
The final step of how to edit product photos in photoshop. Before saving an image, you can add a shadow to the product photo. Do you know that adobe photoshop has a feature for creating shadows? To use this feature, you have to unlock the background layer and double click on the layer. After that, you will be able to make a shadow on the image.
You will see the difference between before shadow and after shadow. You can contact the Clipping Path Assist post-production team to get the professional Shadow Creation service for your e-commerce and product business.
Conclusion
At last, we reach at the end of this tutorial, how to edit product photos in photoshop. Hopefully, you have got your desired question answer and learned properly. From now you will you can edit your product photo own. If you need some help with product photo editing service, then feel to contact our support team, and we always try to deliver the best work.
Please stay connected with us for more new tutorials about product photo editing and photo editing service. Thanks for being here.
FAQ For How to Edit Product Photos
How to Edit Product Photos in Photoshop
There are some steps I try to cover the whole processing for product photo editing
Remove the Background or cut out the object
Remove Blemishes or dust if there
Color Correction
Batch Process.
Change Colors or Recolor
Increase Brightness & Sharpness.
Add Shadows, drop shadow, natural shadow, reflection shadow
Remove Reflection
What should I use to edit a product photo?
Photo Editing Tools or software
We always prefer Adobe's Photoshop and Lightroom because they're the most powerful and well-known photo editing applications out there; they're constantly giving the standard editing when it comes to product photo edits for eCommerce businesses.
Where can I edit product photos?
Keep in mind, though, that these tools might be a bit tricky to use if you do have not proper knowledge about this software
Photoshop Express. Photoshop is a famous name in the photo editing world.
Pixlr.
BeFunky
How do I photograph my product?
5 Product Photography Tips (and Examples) for Taking Pictures That Sell
Don't be afraid to use your smartphone's camera.
Shoot from a tripod for photo consistency.
Choose natural light or artificial light.
Fill or bounce your light to soften shadows.
Use a sweep or portrait mode to emphasize the product.
What is E-Commerce photo editing?
E-commerce photo Editing has been the most effective photo editing service for Online Retailers, Photography Studios, Advertising Agencies, and Graphic Designers, etc., since 2001. In the process, our customers also save up to 50% operational costs incurred in-house, with each image costing as low as 60 cents per image.
What makes a good product photo?
A good product photo gives a visible picture of the product and makes it look natural. This aim is often tried to reach by photographing the product as authentically as possible. The product is portrayed as it is in real life, and the photo has no lens distortions; for example